Six dead or missing after Guatemala's Fuego volcano erupts

Black smoke and ash from the eruption forces closure of capital's La Aurora airport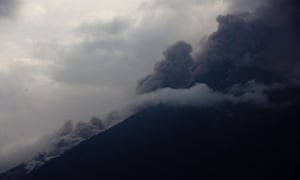 Six people are dead or missing and 20 have been injured after Guatemala's Fuego volcano erupted on Sunday sending a river of lava flowing into a village.
"It's a river of lava that overflowed its banks and affected the Rodeo village. There are injured, burned and dead people," Sergio Cabanas, the general secretary of Guatemala's Conred disaster agency, said on radio.
"We are evacuating and rescuing people and have reports of 20 wounded, six dead and disappeared," said Cabanas.
It is the second time the volcano has erupted this year, setting off loud explosions and spewing ash nearly four miles into the sky.
Soot blanketed cars and houses in the nearby villages of San Pedro Yepocapa and Sangre de Cristo.
Lesser amounts of ash fell on Guatemala City, which is 44km (27 miles) from the volcano.
The volcano spewed black smoke and ash into the sky, prompting the evacuation of some 100 people and forcing the capital's La Aurora international airport to shut down its only runway.
The runway was closed due to the presence of volcanic ash and in order to guarantee passenger and aircraft safety, Guatemala's civil aviation authority said in a tweet.
Authorities said at least six people were dead or missing following the eruption.
Workers and guests were evacuated from the La Reunion golf club. A video circulating on social media showed a black cloud of ash rising from just beyond the golf club.
The huge plumes of smoke that could be seen from various parts of the country and the ash that rained down in four of Guatemala's departments caused some alarm among residents.
Officials asked residents to remain calm.
"It is important to remain calm because the Fuego volcano erupts throughout the year," said David de Leon, spokesman for the National Disaster Prevention Authority.
De Leon said a change in wind was to blame for the volcanic ash falling on parts of the city.
Reuters and Associated Press contributed to this report
This article originally appeared here via Google News